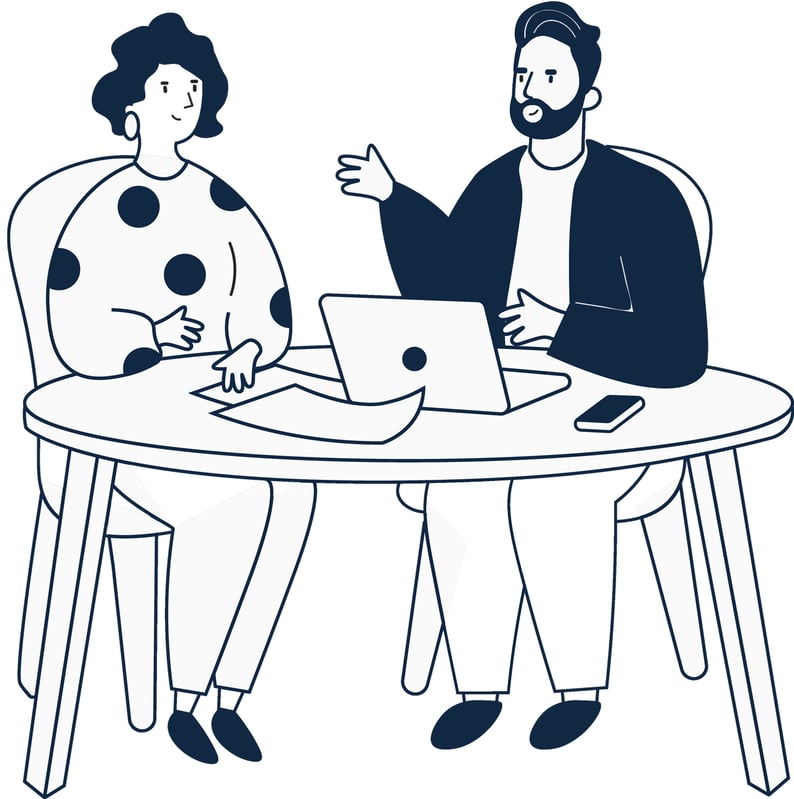 Packages For S.M.E & Self-Employed
Competitive web design packages with money-back guarantee in Ireland
Do you need help creating an online presence? Are you looking for a reliable and trusted freelancer to increase your conversion rates? Boost online presence with expert web design packages from €500.00 include hosting, SEO, and 90-day post-launch support, trusted by Irish businesses since 2019.
Our web design services can significantly improve your online visibility, increase conversion rates, generate leads and sales, and help you beat your competition. With our expertise, you can drive real traffic to your website and boost your profits.
Our Process
How we'll develop your beautiful online website?
USP Research
We research your unique selling points and discuss your business ideas and preferred designs for your website.
Design & Development
At no additional cost, we produce and refine a graphic concept of your website, then code it on our servers once you approve. You'll be granted 50% access once the website is halfway complete.
Finalisation
We test your website for SEO and functionality, provide 3 months of support after launch, and install Google Analytics 4 and A/B testing tools to measure performance.
Packages For S.M.E & Self-Employed
Elevate your online presence with comprehensive web design packages
Through our web design packages, you'll receive top-tier training and a business website that can increase brand awareness and profits in just a few weeks. Our communication is free of jargon and complexities- we reserve those for ourselves.
Save time, money, and headaches with our all-inclusive package featuring hosting, business email, SEO, website design and development on a fast-track schedule.
Our web design is driven by expertise, passion, and unwavering dedication, taking marketing services to new heights.

Choose Your Best Plan
Website packages pricing
Brochure Site
Pay in advance: €250 x 2
€500
5 Responsive pages
GDPR friendly
SSL certificate
Fast hosting for 1-year
Contact / booking form
Social media integration
Multimedia gallery and slider
Post-launch support for 90-days
Get Started
Business Site
Pay in advance: €400 x 3
€1200
15+ Responsive pages
SEO optimised service pages
Google My Business optimisation
Advanced GDPR policy
Advanced SSL certificate
Google Analytics setup
Fast hosting for 1-year
Social media integration
Admin management training
Contact, booking, callback forms
Post-launch support for 90-days
Get Started
Custom Site
Pay in advance: €500 x 5
€2500
'Business Site' plan
10 Stock images
Google Ads setup
Facebook marketing campaign
e-Commerce - package tracking
e-Commerce - up to 250 products
e-Commerce - credit cards, PayPal integration
e-Commerce - comprehensive analytics
e-Commerce - Google Analytics configuration
e-Commerce - abandoned carts setup
Get Started
Thinking?
Which of the web design packages is suitable for my needs?
I'm on budget
Please consider the 'Brochure Site' plan priced at €500.00, which includes all the essential features for your website. You also have the option to pay in two instalments
I have competitive business
If you are operating in a competitive market such as roofing, plumbing, coaching, accounting, or selling products, then we recommend the 'Business Site' or 'Custom Site' plan.
Questions & Answers
FAQ's
Our web design packages come with 1-year shared or VPS hosting, depending on the plan you choose. However, if you prefer, you can also handle your own hosting separately, and we'll adjust the total price of the plan accordingly.
Hiring a large agency can be a good option, but it can also be expensive and resource-intensive for a bespoke project (you can learn more about whether you should pay monthly or in a one-time payment with us here).
At Galicki Digital, we offer the best web design packages that are affordable for micro businesses in Ireland. You can pay for the entire package in instalments, and we also provide free 3-month website maintenance after the website launch, so you can save money. Our websites are designed to be discovered by Google and displayed on local search results.
Yes! At Galicki Digital we create custom made, bespoke websites that are SEO - Google friendly, functional and effective, designed to your business requirements.
Yes! We would be excited to assist you in revamping your business website. We'll collaborate with you to materialise ideas, and recommend essential - modern components to guarantee a pleasant user experience on your site.
While we suggest that owners provide their own content (as they have the most knowledge about their services), we are also capable of producing customised tailored-written pages by ourselves to optimize your Google ranking and enhance your visibility on search results.
We'll provide a graphic concept of your website design, and you'll have additional revision available in case you are not satisfied with the initial concept.
We offer an SSL certificate (SSL stands for Secure Sockets Layer, which is a protocol used to establish a secure and encrypted connection between a web server and a web browser) to ensure secure and stable connections, as well as protection against malware and brute force attacks. We also provide website and email backups.
We create unique websites based on user intent strategy with a good on-page optimisation and backlinks profile.
Start being noticed for your customers